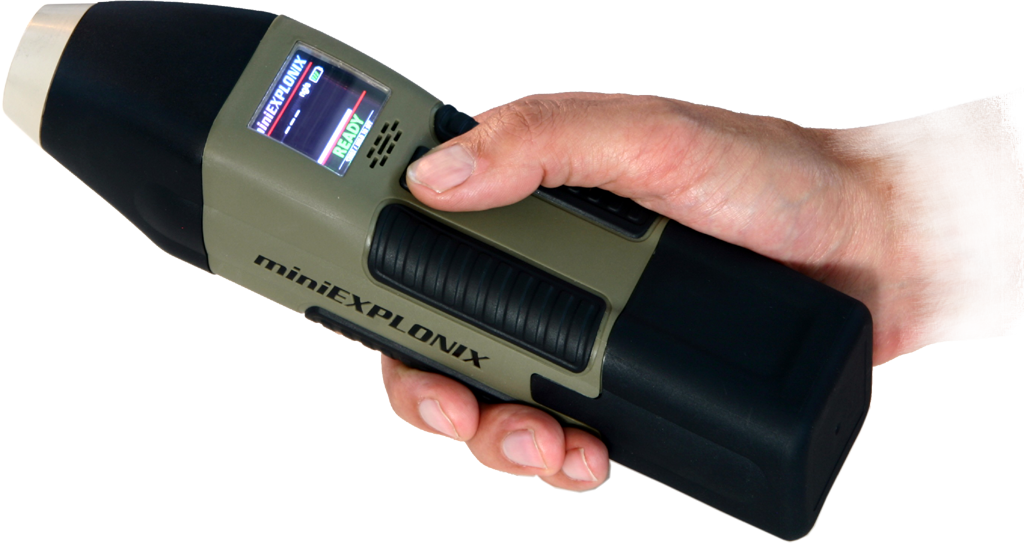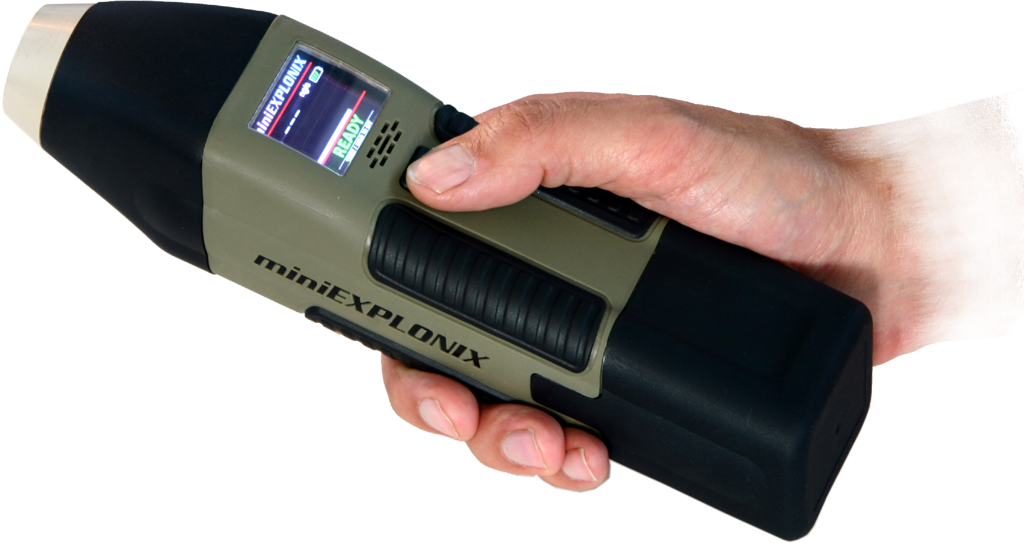 The miniEXPLONIX uses the unique IRSSIL-D technology for fast and precise detection of explosive traces in a wide field of operations. The detection capability covers a wide range of explosives, including homemade explosives as well as non-tagged explosives.
"The first true handheld and miniature explosives detector/sniffer with full detection capabilities on the world market !! "
Weight:
Without batteries: 0.400 kg
With batteries: 0.685 kg
Size:
Length: 249 mm
Hight: 48 mm minimum – 55 mm maximum
Width: 65 mm
Operation:
Extremely user-friendly and easy to operate – using only one button. First press: start-up, second press: measurement, third longer press: switch-off.
All operational parameters configurable from PC; Password protected.
PC connection: WiFi, USB 2.0, RS 232
Android mobile platform compatible via WiFi
Training:
NO special operator's training required, easy operation understandable to any operator without special qualification
Easy and simple training of expert/commander to set-up operational parameters via PC
Remote control:
All operations remotely controllable via PC/ Android remote control software through WiFi, USB 2.0, RS 232 or Internet (TCP/IP Protocol)
Android mobile platform remote control via WiFi
Ideal for robotic applications, one-minute installation
Remote data download and configuration
Factory remote checking, service and calibration:
Available through any Internet connection (WiFi or cable network connection)
Capability to remote factory check & fix of all small problems and calibration.
RS DYNAMICS checking server available 24/7
Power Supply:
One LiPol Battery pack (two packs optional)
Battery charger operable from 100 to 250 V AC included
Car adapter – CLA Charger 12V DC (optional)
Affordable Consumables:
Detector cartridge (enough for 4000 to 6000 measurements)
RS DYNAMICS Sampling Strips
Environmental:
No radioactive source inside the unit
No toxic materials inside the unit (excl. consumables – batteries, det. cartridges)
Product fully recyclable at supplier side
The miniEXPLONIX has an internal calibration system and fast cleaning times that are ahead of competing products. With its miniaturized size, robustness and precision, the miniEXPLONIX is a tool for real field/military use. In combination with its low maintenance costs and minimized consumables expenses, the miniEXPLONIX is way ahead of its competitors, combining clinical advantages with low total ownership costs. This brings a total new experience for easy, cost-effective and reliable field use.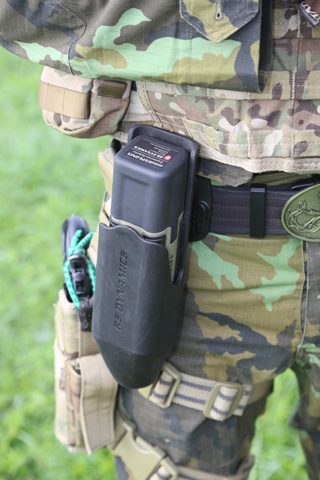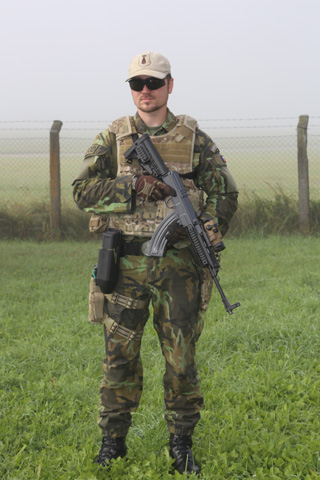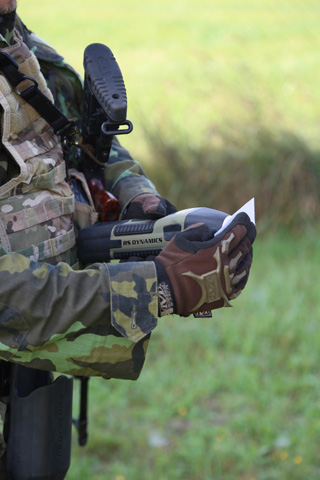 The main advantages of the miniEXPLONIX:
The new IRSSIL-D technology for fast detection, fast cleaning and extreme resistance to interfering chemicals
No radioactive source
Suitable for all users without a need of special training/education with extremely simple, user friendly handling
Extremely fast start-up (5-15 sec.) and detection (1-2 sec.)
Detection of all types of explosives incl. homemade explosives
Very easy to use with one-touch operation (ON/OFF/DETECTION)
Semi-selective, continuous infrared mode for detection of vapors for example via documents like tickers or swipes
Extremely resistant to interfering chemicals and organic compounds like perfumes, etc., ensures unbeatably low false alarm rate!
Dimensions: 249 x 48 x 65 mm
Battery operation: up to 24 hours (depending on intensity of use), two exchangeable batteries optional
Weight: 400 grams without batteries, 685 grams including batteries
Remote factory diagnoses and calibration via Internet
Full remote control via wire, WiFi or Internet from your laptop
More detailed information can be found in our product brochure and specifications.
Need to know more about explosive traces detection? Visit the Technology Section on our website.