The EXPLONIX uses the unique IRSSIL-I technology for both fast and precise detection and the identification of explosives traces, gunshot residuals and radioactive contrabands in a wide field of operations. Its detection and identification capability covers a wide range of explosives, including homemade explosives as well as non-tagged explosives, gunshot residuals and radioactive contrabands from military and industrial sources.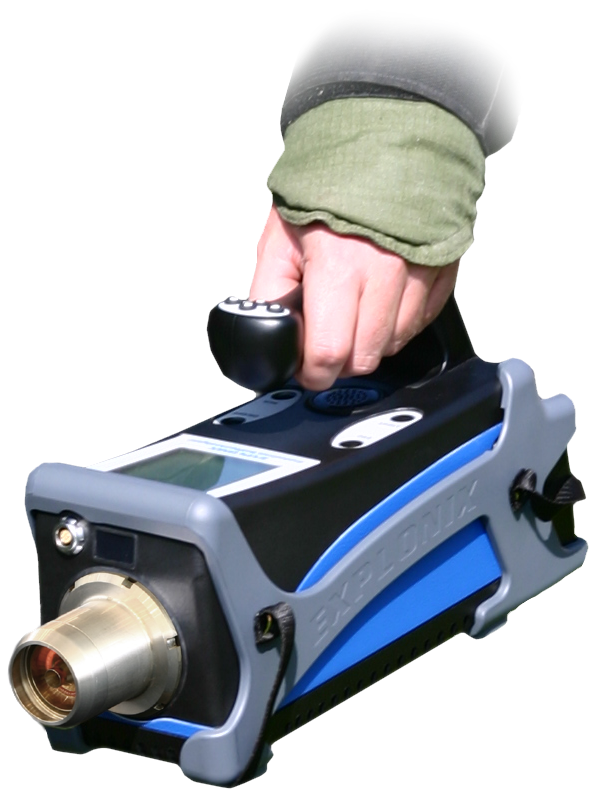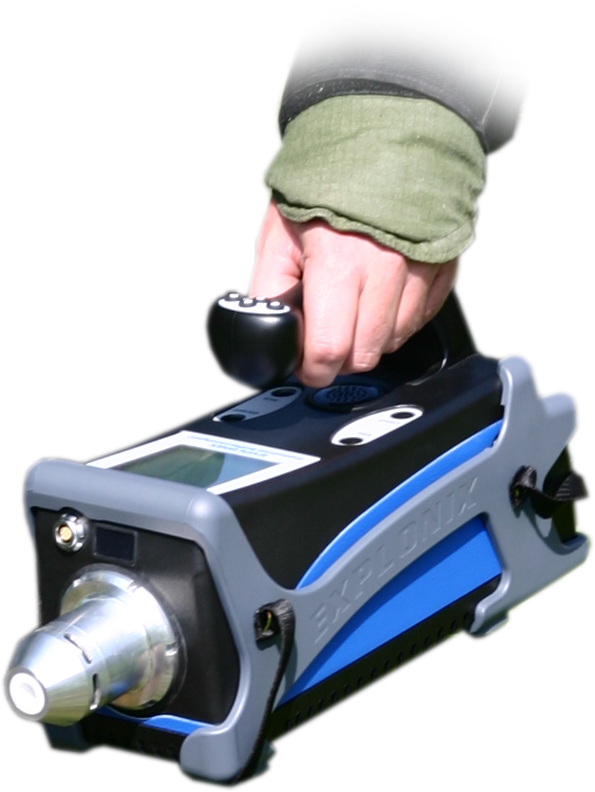 "The first combined detector/sniffer/identifier of explosive traces and radioactive materials on the world market !!"
Weight:
Without battery: 3.2 kg
With battery: 3.9 kg
Shipping weight: 13 kg (incl. transport case, calibration kit, docking station, accessories)
Size:
Length: 260
Height: 170 mm (including handle)
Width: 105 mm
Operation:
New IRSSIL-I technology for fast detection, reliable identification, fast cleaning and extreme resistance to interfering chemicals
Fast start-up (up to 1 minute only) and detection (1-2 sec.) and identification (28 sec.)
Recognizes all ICAO standard and military/industrial explosives in the picogram/nanogram range, including TATP and other homemade explosives and all plastic explosives (PETN / HMX / RDX-based explosives) even without taggant
Easy, user-friendly one-button operation with automatic data collection and pre-set profiles for rapid deployment
Various detection methods possible: Areal Swiping, patented Needle Sampling and 2 Vapor Modes
Automatic cleaning of sampling needle after use
Automatic calibration of all analytical channels
Remote factory diagnoses and calibration via Internet
Full remote control via wire, WiFi or Internet from your laptop
Power Supply:
One LiPol Battery pack (two packs optional)
Docking station operable from 100 to 250 V AC included
Car adapter – CLA Charger 12V DC (optional)
Battery operation up to 4 hours (in detection mode)
Affordable consumables:
Detector cartridge (enough for 4000 to 6000 measurements)
Sampling Needles, Sampling Strips
Set of liquid test samples
Environmental:
No radioactive source inside the unit
No toxic materials inside the unit (excl. consumables – batteries, det. cartridges)
Product fully recyclable at supplier side
Detection and Analytical Range
Explonix detects all ICAO standard and military/industrial explosives down to picogram level, including TATP and other home made explosives and all plastics (PETN/HMX/RDX based explosives) even with no taggant added.
Sampling principles
The revolutionary new Infra Red Continuous Vapor Mode instantaneously detects the presence of all explosive materials, including non-volatile explosives. This is the first principle, capable to sample and detect high vapour pressure (non-volatile) explosives (HMX, RDX, PETN based) in continuous vapour mode!
Analytical Particulate Mode facilitates a highly effective sampling method. The needle sampler can collect even in the tiniest crevices or on flat smooth surfaces without any need for gloves and facilitates reliable detection even in heavy rain
The innovative Cold Vapor Mode utilizes a new type of metal tube sampler and sampling technology that ensures maximum sensitivity with minimal loss of explosive material for subsequent detection. Suitable also for GSR (Gun Shot Residues) detection
Analytical Particulate Mode provides detailed identification into basic root explosive components (PETN, TNT, NG, NC, HMX, RDX and others), also showing the volume of explosive material being sampled
All operating modes feature effective prevention againts system overload. Sampling even extremly high concentration cannot cause false alarm and does not bring any cleaning problem.
Both the measured data together with baggage identification (bar code registered) are automatically stored and optionally wirelessly sent to the airport data logistic system.
Advanced technology enables fast and user friendly in-situ calibration and fast detectability verification, securing proper instrument operation at any time, anywhere, without any special lab equipment
Explosives Section
Detection limit: picogram reading
Excellent Suppression of interfering compounds (perfumes, diesel exhausts, various odours, diesel fuel vapours, various desolvents and other organics)
Detection time: 1 second for both vapor modes
Detection range: all known explosives, upgradable
Analytical time: < 30 second in Particulate Mode
Warm-up time: 30 seconds to 1 minute
Cleaning time: typically 10 seconds up to several minutes in case of huge contamination
Radiological Section
Full-featured Gamma-Ray spectrometer with radionuclide identification and internal upgradable library, PC graphic spectrogram output and automatic background correction and calibration. Immediate response/alarm on exposure of smallest level of radiation
Detector type: NaI/Ti
Sensitivity (static): 30 cps per MBq/m (Cs_137)
Resolution: Better then 9% FWHM at energy 662 keV
Energy Range: 20 keV – 3.0 MeV
Number of Channels: 1024
Radionuclide identification library: upgradable
Calibration standard: Cs_137
General
Warm-up time: 30 seconds to 1 minute
User-friendly one button operation
Automatic system check on start-up
Direct Internet Connection – no computer needed
Remote operation via wire or wire-less Internet, Cell GSM modem providing full remote control of all operations, set-up, configuration and calibration, data download and system check from manufacturer
Communication: USB 2.0, RS 232, RJ45 Ethernet, WiFi
Data format: EXCEL spread sheet via EXPLONIX_VIEW software
Operating system: 2000/XP/ Vista/7/8/10 compatible
Dimensions: 105 x 260 x 170 mm (including handle), weight: 3.2 kg without batteries
Automatic calibration of all analytical channels
Operates in a number of factory pre-sets and/or user-defined profiles, adapting the system capabilities to various application tasks and operating conditions
Built-in 2-D or 1-D Bar-Code reader
Acoustic, visual or remote alarm for all channels
Vapour sampling rate: 0.1 to 7 litres/min (preset)
Power Supplies: Internal Battery continuosly charged in Docking Station powered by 100-240 VAC or 12 VDC
One-charge Battery Operation: up to 4 hours in Vapour mode, 2 hours in Analytical Particulate Mode
Continuous operation in Docking Station
Display: full graphic back-light
Keyboard input: multi-function sealed keys
Operating environment temperature: -10 to + 54 °C
The EXPLONIX is a highly sensitive, portable, multi-functional explosives/radiological compounds detection and analytical system offering optimal power & flexibility for fast, reliable detection and identification of a wide range of explosive and radioactive material traces.
It has a built-in internal calibration system and fast cleaning times that are superior to those of competing products. The product also offers significant versatility in the use of swiping techniques and a direct trace mode for small, closed spaces.
In combination with its low maintenance costs and expenses for disposables / consumables, the EXPLONIX is way ahead of its competitors, combining clinical advantages with low total ownership costs. This brings a total new experience for easy, cost-effective, robust and precise tool designed for real field military use.
More detailed information can be found in our product brochure and specifications.
Need to know more about explosive traces detection? Visit the Technology Section on our website.