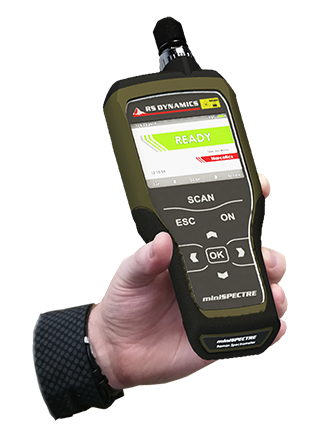 The miniSPECTRE, an advanced Raman spectrometer delivers the highest accuracy and reliability in chemical identification for a range of response scenarios in military and civilian first responders applications. miniSPECTRE detects and identifies:
explosives
narcotics
chemical warfare
harazdous materials
pharmaceutical products
"Advanced Raman Spectrometer for detailed identification"
Weight:
With internal battery pack: 950 g

Dimensions:
Length: 270 mm
Height: 43 mm
Width: 72 – 99 mm
Technical parameters
Identification of pure substances, available in built-in libraries, in liquid or solid form under ideal lab condition. Operator's added substances possible.
Laser type: semiconductor laser
Laser output power: 3 levels available, max 300mW
Floating-lens laser optics for accurate identification and penetration through various container materials
Exposure: manual and automatic mode with presetable scan delay
Max spectral range: 400 cm-1 to 2 300 cm-1
Spectral resolution: 8-10 cm-1
Detector type: Linear CCD Array
Connectivity: USB 2.0, WiFi Battery: Li-Ion battery for up to 100 hours operation per one charge
External power supply: USB – C 100 Watts, 110 – 240 V AC, Car adapter 12 V DC with CLA socket optional
Operating temperature: -20 °C to +50 °C
Storage temperature: -30 °C to +50 °C
Robotic integration: Windows-based remote console and customer mechanical adapters (optional)
Included accessories: dust-proof/water-proof case (IP 67) case, shoulder strap, USB cable, laser aperture cap with calibration target, sample vials, point-and-shoot adapter, vial holder, 90° angle adapter, attachment point, AC Adapter for Charging.
Factory remote checking, service and calibration
Available through any Internet connection (WiFi or cellular or satellite or cable network connection)
Capability to remote factory check & fix of all small problems and calibration.
Environmental
No radioactive source inside the unit
No toxic materials inside the unit (excl. battery pack)
Product fully recyclable at supplier side
Operating environment temperature: -20 °C to +50 °C (conditions specified in User Manual
Training
No special operator's training required, easy operation understandable to any operator without special qualification
Easy and simple training of expert/commander to set-up operational parameters via PC
Consumables
The main advantages of the miniSPECTRE:
Adaptable for various scanning scenarios with 3 laser output levels
Advanced Raman Spectrometry system for detailed identification even thought closed/sealed containers with floating-lens laser optics
Identifies the widest spectrum of substances including explosives, narcotics, chemical warfare agents, hazardous materials, pharmaceutical products
5 extensive libraries (optional) of detected materials are open for operator's update with unknown compounds
Advanced mixture identification due to sophisticated determination algorithm
Heavy-duty, robust case designed for the hardest field conditions, IP67 protection, with reliable cap-sense keyboard operable also in protection gloves
User friendly and intuitive operation through the simplest possible controls and single hand operation
Robotic integration includes full remote wire-less operation and mechanical robot mounts
Full wired or wire-less remote control (also works via Internet) equipped with factory remote diagnostics and first-level service
Large color display readable also under direct sunshine with self-explanatory graphic output
Fast USB – C / WiFi data connection with rapid charging capabilities (100W USB-C charger)
No operational consumables
More detailed information can be found in our product brochure and specifiations.